Administrative & Scheduling Coordinator
Homecare
/ New Dawn Centre | 37 Nepean Street, Sydney NS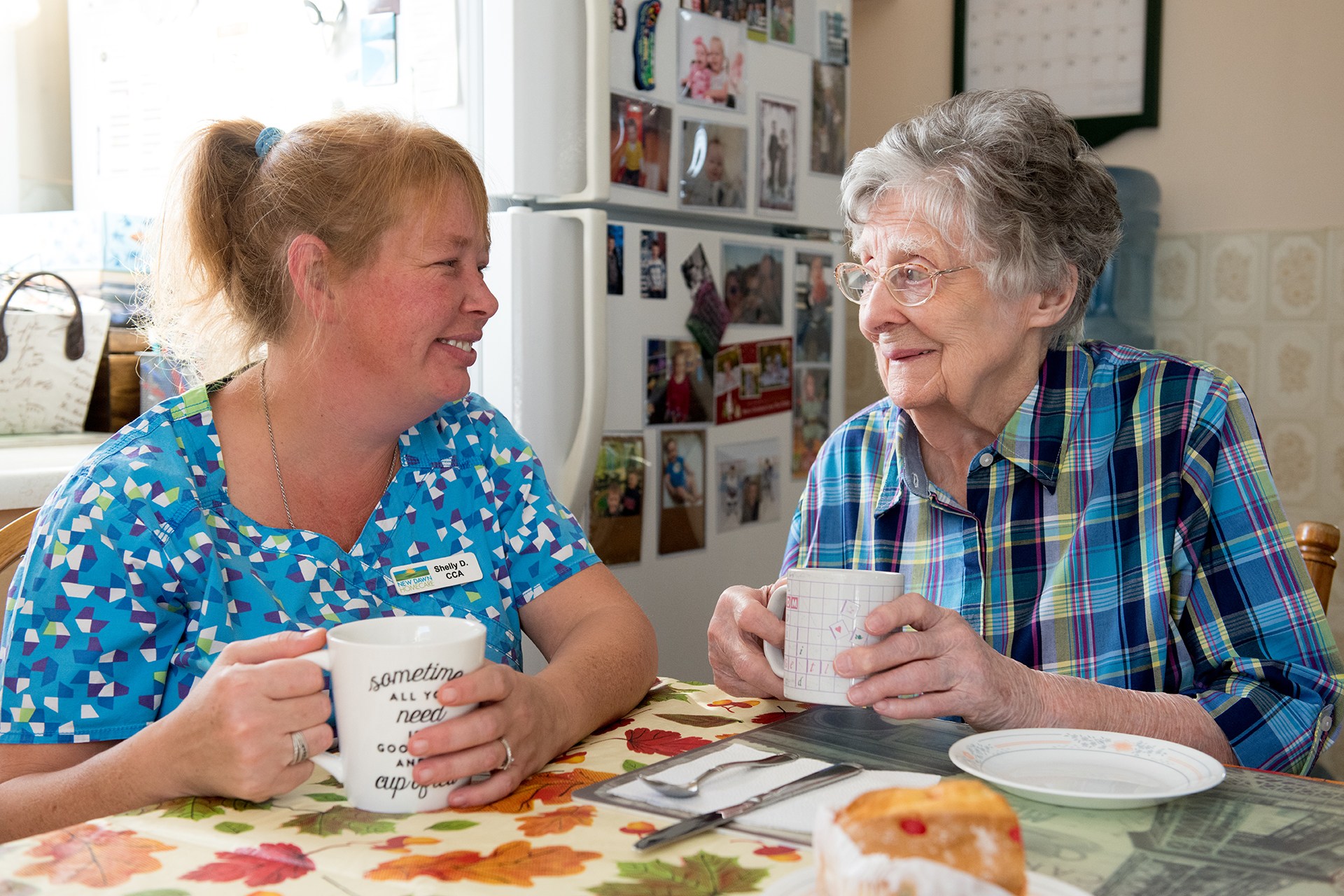 The Administrative & Scheduling Coordinator is ia key position within the New Dawn Homecare team. The Coordinator is responsible for ensuring best practices in schedule coordination of all frontline employees within New Dawn Homecare.
They are also responsible for best practices in billing processes, payroll procedures and in customer service to clients and the general public.
They are responsible for reconciling accounts with private-pay clients and other agencies such as Department of Veterans Affairs, Blue Cross Insurance, Workers Compensation Board as well as any other new clients.
As the first point of contact for the main New Dawn Homecare phone line, the Administrative & Scheduling Coordinator responds to all calls in a timely manner and escalate questions and concerns as necessary to the Nurse Care Coordinator and/or Director of Healthcare.
The Administrative & Scheduling Coordinator works closely with the Nurse Care Coordinator to ensure clients are serviced properly, shifts are filled, and client needs are met in a timely and effective manner.
Lastly, the Coordinator is responsible for coordinating the daily schedule with the after-hours answering service to ensure staffing requirements and client inquiries are filled outside of New Dawn Homecare office hours.
Core Competencies
Client-and-family-centered focus engagement and education
Client-centered care planning
Coaching and counseling
Communication
Multi-task
Teamwork & collaboration
Problem solving
Accountability & dependability
Ethics & integrity
Attention to detail
Time management
Qualifications
Post-secondary education in business or healthcare;
Minimum of two (2) years scheduling experience;
Compassion, empathy and experience working with and advocating for seniors;
Must be able to work independently, as well as under supervision;
Exceptional attention to detail skills required;
Exceptional verbal and written communication skills;
Must be able to work effectively with others and have good interpersonal skills;
Must be highly organized and work well under pressure;
Must be willing to adhere to the principles of confidentiality and to comply with all mandated training and ethical guidelines;
Strong knowledge of Simply Accounting program as well as Microsoft Office products, including Excel, Word, and PowerPoint;
Able to maintain filing systems and databases;
High level of integrity, confidentially, and accountability;
Must understand that client care is the focal point for success.
Work Conditions
Some travel may be necessary;
Ability to attend and conduct presentations;
Manual dexterity required to use desktop computer and peripherals;
Overtime as required.
New Dawn Enterprises Compensation Package
New Dawn Enterprises believes in supporting the well-being of its employees and, in service of this, has created the following total compensation package for permanent employees of New Dawn Enterprises.
Canada Life Group Benefits: After three months of employment, New Dawn offers its employees shared-cost group benefits provided by Canada Life including medical, dental, and life insurance benefits. Employees may choose to be enrolled in the plan and may select Single or Family coverage as required.
Self-Directed Registered Retirement Savings Plan: Employees may choose to begin participation in the Self-Directed RRSP plan after completion of three (3) months of employment. Each employee may contribute up to 5% of their gross salary, deducted from their pay cheque. This is matched by the employer to a maximum of five percent (5%).
Flexible Working Arrangements: New Dawn is committed to recruiting and retaining qualified employees and maximizing employee productivity and effectiveness while also being sensitive to the needs of employees for work/life balance. Well-managed flexible work arrangements can help to meet both of these objectives.
Examples of Flexible Work Arrangements:
A compressed work week which permits employees to work regular, full-time hours in less than five (5) days per week.
Varying shifts, quitting times, lunch periods, and daily working hours provided a specific number of hours are worked each week.
Professional Development: New Dawn acknowledges and is committed to the ongoing professional development and lifelong learning aspirations of its staff. The acquisition of new position-relevant skills and perspectives by employees creates a stronger, more informed, and modern organization. Employees are encouraged to outline education and/or professional development opportunities in the upcoming calendar year as part of their annual check-in and work plan creation.
Paid Holidays: New Dawn observes twelve (13) public holidays and other days for which staff will be paid. They are: New year's Day, Family Day, Good Friday, Easter Monday, Victoria Day, Canada Day, Civic Holiday, Labour Day, National Truth and Reconciliation Day, Thanksgiving Day, Remembrance Day, Christmas Day, Boxing Day
In the spirit of family, the President reserves the right to close the office between Christmas and New Year's to enable employees to spend time with their families. This option will be reviewed, and a decision made annually depending on operational requirements.
Paid Vacation: All new employees entering the organization as a salaried employee will earn 15 days of vacation during the annum and these days can be taken as earned. For each subsequent year of service, employees will earn an additional one day of vacation per calendar year. The maximum vacation entitlement for any one employee is thirty (30) days per calendar year.
Paid Personal Day: In addition to paid vacation and sick days, each employee is entitled to one (1) paid personal day per calendar year.
Paid Volunteer Day: New Dawn's Volunteer Time Off (VTO) policy is designed to encourage individuals and work teams to participate in volunteer projects that support community needs. Full-time employees can volunteer during work hours up to one day (or 7 hours) per calendar year using the VTO policy.
Paid Sick Time: Employees will be entitled to seven (7) days of sick leave at the beginning of each calendar year. Sick time can be carried forward to a maximum of fifteen (15) days total. Sick leave will not be paid out upon resignation, retirement, or termination of employment for any reason. Sick leave can be used for illness, medical appointments, and visits to specialists for the employee or their family members.
Years of Service: The purpose of the Years of Service Recognition Program is to recognize and reward the service of New Dawn employees at milestones in their careers. All permanent full-and-part-time New Dawn employees will be eligible to receive the Years of Service award.
STAR Program: New Dawn is proud to recognize and reward the excellent work and achievements of its employees. Managers at New Dawn will be given an annual budget to provide ongoing and immediate recognition to their direct reports throughout the year.
Employee and Family Assistance Plan (EAP): The Employee and Family Assistance Program (EAP) is a free support system that employees and their families can turn to for confidential help with stress, anxiety and depression, family and relationship issues, addictions, legal and financial difficulties, health and nutrition concerns and workplace and career difficulties. The program is confidential and optional and is available 24 hours a day, 7 days a week.
Application Deadline: 2022-01-14
Expected Start Date: 2022-01-31
Job Types: Full-time, Permanent
Salary: $40,000.00-$45,000.00 per year
Schedule:
8 hour shift
Monday to Friday
Education:
Secondary School (preferred)
Experience:
Administrative assistant: 2 years (required)
Staff scheduling: 2 years (required)
Work remotely: