Cafe Supervisor
New Dawn Community Kitchen
/ Eltuek Arts Centre - 170 George Street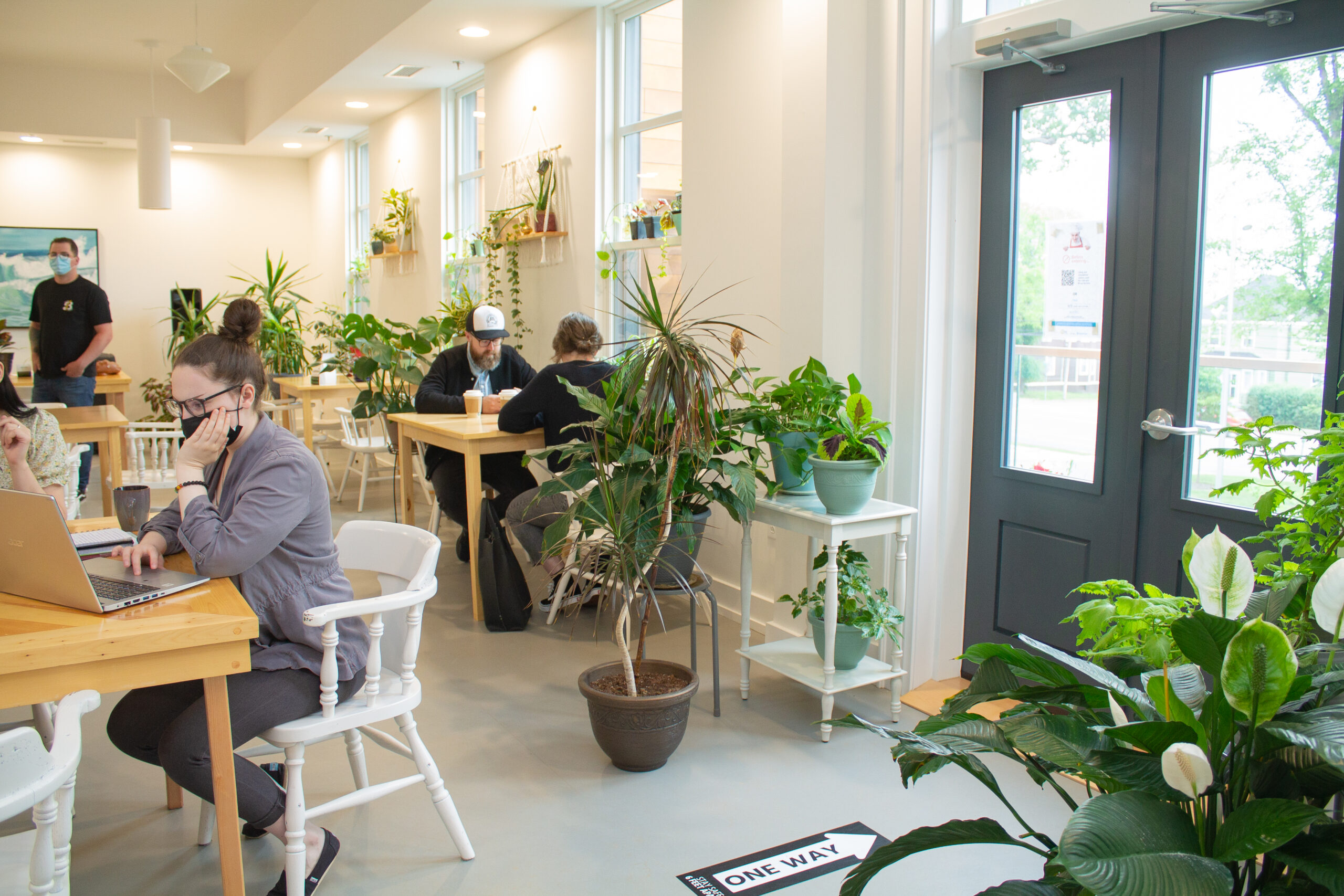 The Café Supervisor is responsible for the curation and care of the Café at Eltuek, located within Eltuek Arts Centre, a creative cultural hub and centre for contemporary art and community in Sydney, Unama'ki, Cape Breton Island. Eltuek Arts Centre is owned and operated by New Dawn Enterprises, which also oversees the New Dawn Community Kitchen.
Eltuek (El-du-ehg) is a Mi'kmaw word that can mean "we are making it together." Together we define what "it" will be – a conversation, a shared meal, food for those in need, local food security, community.
The Café at Eltuek is a social enterprise. Working out of the New Dawn Community Kitchen, the café team creates delicious, exciting, nutrient-dense, and diverse food for purchase in the Café and for service through the Catering division.
The New Dawn Community Kitchen is home to Meals on Wheels, the Café and Catering division, local food programming, and the Good Food Bus. We are a charitable, non-profit, volunteer-driven organization committed to fostering independence and quality of life.
Revenue generated from the Café helps to support the mission and vision of the New Dawn Community Kitchen, and specifically the Meals on Wheels program. Every year, the Meals on Wheels team prepares and delivers over 20,000 affordable meals made with care for people in our community. This continued support enables more family and friends to live well, at home, in Unama'ki, Cape Breton.
Each week, you'll bring a strong sense of pride and care to this role, providing leadership, accountability, and an attention to detail that inspires your colleagues. Focusing on the visitor experience to the Café and to Eltuek Arts Centre in general, you have brilliant customer service skills, an adept ability to listen and anticipate the wants and needs of others, and your commitment to excellence and growth elevates the everyday workplace experience.
Supervising frontline staff is a core expectation of the position. You provide empathy and empowerment to your team, and lead with healthy boundaries, solid administrative and communication skills, and a collaborative kindness that attracts talent, creativity, and a sense of vibrancy in our shared work. The daily work is physical and demanding, but you know you are providing service that has an essential side. In this way, the café is community development. At Eltuek, we're feeding minds and bodies through art, change, and community.
This is a full-time, continuing position that requires 32 hours of work per week. The Café's hours of operation are presently Monday to Friday, 8:30am to 4:30pm, although this position will require work outside of these hours. Eltuek staff values and nurtures partnerships with many community organizations that require after-hours events and catering – Lumiere, North End Noel, Open Studio Days, after hours mixers, weddings, private parties, exhibition openings, etc. Business hours for the café may vary throughout the year to ensure peak service hours are met, to optimize café revenue, and to host special events and programs.
Your need for creativity in the workplace will be met through program development and community partnerships, café and menu design, music pairings, planning and hosting events, staff functions and activities, and working with artists through the arts centre.
The Café Supervisor will work alongside the Head Cook & Supervisor of the New Dawn Community Kitchen to ensure overall division services, goals, and objectives are met, and proper inventory for the café is maintained.
The Café Supervisor will also work closely with the Chef of Café and Catering, the Meals on Wheels Coordinator, Eltuek staff, and other divisions of New Dawn Enterprises, to create and develop food programming, recommendations on policies and best practices within the workplace, welcome newcomers through foodways, festivals, and other programming, and to promote Café events, menu, and mission through social and traditional media platforms.
As with all positions within New Dawn Community Kitchen, there may be instances where the Café Supervisor may be asked for assistance with the meal preparation, packing, and delivery associated with Meals on Wheels. The Community Kitchen is a collaborative space and requires team leadership, cooperation, and highly effective communication skills to operate effectively daily.
Provide supervisory support, scheduling, conflict resolution, and oversight of the team's work, including addressing areas needing improvement, bringing performance issues to management attention, etc.
Ensure that the café is prepared to open daily, and the café and lounge areas are clean, inventory levels and supplies adequate, and equipment is working properly.
Oversee the Café social media calendar and provide direction on vibe, design, and strategies for all platforms, producing content, reviewing analytics, and communicating with staff on special events and more.
Working with the Head Cook, arrive at and revise as needed a schedule for the daily operations of the New Dawn Community Kitchen that allows for Café lunch rush and the busy meal packaging period for Meals on Wheels.
Working with the Head Chef and Head Baker to assist with local food and vendor sourcing wherever possible given budget, complete supply orders for café and catering, and complete accurate menu costing for each menu item and seasonal menus.
Ensure quality and food safety through the development of policies and procedures.
Performing sanitary measures including sweeping floors, washing dishes and equipment, cleaning high touch surfaces, as well as proper covering and storage of food items, according to standards and procedures.
Monitor TouchBistro software with respect to operations and revenue goals, and to build customer relations, inventories, save time and money, and generate financial reports.
Prepare daily transaction reports and deposits for the New Dawn Enterprises accounting department.
Monitor employee and guest activities to ensure alcohol service regulations are obeyed.
Adhere to all regulations which address blood borne pathogens, infection control, use of hazardous materials and fire safety.
Report any infraction or workplace incidents in the food services department policies and procedures.
Monitor and maintain all quality control records, ensuring quality assurance and loss prevention policies and procedures are being adhered to.
Ensure all Occupational Health and Safety requirements are met and that all café staff likewise adhere to OHS requirements.
Demonstrate flexibility with scheduling and show a willingness to volunteer to fill open shifts, as required by variations in staffing.
Maintain a flexible schedule to ensure that café and catering staffing need is met on a weekly or biweekly basis.
Deliver meals for Meals on Wheels program, when required.
Promote the mission and values of the organization both internally and externally and oversee café staff adherence to these same values and mission.
Other duties as assigned by the collective team and/or management.
Creativity
Community
Leadership
Attention to Detail
Independence
Collaboration
Education
Integrity
Service
Problem Solving
Patience
Kindness
Five years of experience in the food and hospitality industry.
Food Safety training and CPR/First Aid certification are required.
Barista experience is considered an asset.
The ability to interact and collaborate with customers, vendors, staff, and the public in a professional and courteous manner.
Knowledge of methods and procedures for serving food, principles of sanitation, and principles of safe food handling required.
Superior time management skills, multitasking skills, and the ability to prioritize tasks with minimal supervision.
A valid driver's license and/or access to reliable transportation.
Highly effective teamwork skills.
High level of attention to detail in all areas of work.
Highly flexible, with solid interpersonal skills that allow one to work effectively in a diverse working environment.
Strong problem identification and problem resolution skills.
Strong work ethic and positive team attitude.
Basic computer skills for the use of email, Microsoft Office Suite, TouchBistro, etc.
New Dawn Community Kitchen is a fast-paced work environment
The physical ability to lift to 50lbs as the Café Supervisor may be required to frequently lift and/or carry up to 10 pounds, and occasionally lift and move up to 50 pounds
This position requires the employee to stand for long periods of time
This position requires the employee to occasionally stoop, kneel, crouch and/or crawl
This position requires the employee to bend, lift and reach repeatedly
May be exposed to infectious waste, diseases, conditions, etc.
Must interact with volunteers, family of clients, staff, and visitors in a respectful manner
Manual dexterity required to use a computer, café/kitchen equipment and peripherals
Travel may be required
Overtime as required
About New Dawn Enterprises
New Dawn Enterprises Limited is the oldest Community Development Corporation in Canada. New Dawn is a private, volunteer-directed non-profit social enterprise dedicated to community building. It seeks to identify community needs and to establish and operate ventures that speak to those needs. Its mission is to engage the community to create and support a culture of self-reliance. Its vision is a self-reliant people living in a vibrant community.
Among its businesses and activities are New Dawn Health Care, New Dawn Properties, New Dawn Community Engagement and Education, Eltuek Arts Centre, New Dawn Meals on Wheels, the Cape Breton Island Centre for Immigration, and the New Dawn Centre.
New Dawn Enterprises believes in supporting the well-being of its employees and, in service of this, has created the following total compensation package for permanent employees of New Dawn Enterprises, in addition to their salaries.
Canada Life Group Benefits: Medical, Dental, Life Insurance
New Dawn offers its employees group benefits provided by Great West Life Assurance. Fifty percent (50%) of these benefits are paid by the employer, except for Long-Term Disability benefits which is fully (100%) paid by the employee. After three months of employment, employees may choose to be enrolled in the plan and may select Single or Family coverage as required. The plan also includes a component for Life Insurance, Accidental Death and Dismemberment (AD&D) and Vision Care. Dependent life is also included.
Self-Directed Registered Retirement Savings Plan
Employees may choose to begin participation in the Self-Directed RRSP plan after completion of three (3) months of employment. Each employee may contribute up to 5% of their gross salary, deducted from their pay cheque. This is matched by the employer to a maximum of five percent (5%).
Reduced Hours Work Week Pilot
In recognition of the benefits of greater work-life balance, and in recognition of the value of flexibility and autonomy for human wellbeing, New Dawn is piloting a Reduced Hours Work Week Pilot Project, effective June 6 through December 31, 2022. Following the pilot, this may become a permanent feature at New Dawn. Whereas this is a pilot, New Dawn reserves the right to discontinue this feature in 2023.
Professional Development
New Dawn acknowledges and is committed to the ongoing professional development and lifelong learning aspirations of its staff. The acquisition of new position-relevant skills and perspectives by employees creates a stronger, more informed, and modern organization.
Employees are strongly encouraged to research and outline education and/or professional development opportunities in the upcoming calendar year as part of their annual check-in preparation and pre-check-in creation of a one-year work plan.
Paid Holidays
New Dawn observes thirteen (13) public holidays and other days for which staff will
be paid. They are: New Year's Day, Family Day, Good Friday, Easter Monday, Victoria Day, Canada Day, Civic Holiday, Labour Day, National Day for Truth and Reconciliation, Thanksgiving Day, Remembrance Day, Christmas Day, Boxing Day
In the spirit of family, the President reserves the right to close the office between Christmas and New Year's to enable employees to spend time with their families. This option will be reviewed, and a decision made annually depending on operational requirements. These non-statutory days will have no impact on employee vacation time.
Paid Vacation
All new employees entering the organization as a salaried employee will earn 15 days of paid vacation during the annum.
Mental and Physical Health Days
Employees will be entitled to seven (7) days paid leave at the beginning of each calendar year. This can be carried forward to a maximum of fifteen (15) days total. It can be used for physical and metal wellness/illness and appointments for the employee or their family members.
Employee and Family Assistance Plan (EAP)
New Dawn's Group Benefits Plan also includes the provision of an Employee and Family Assistance Program. The Employee and Family Assistance Program (EAP) is a support system that employees and their families can turn to for confidential help with stress, anxiety and depression, family and relationship issues, addictions, legal and financial difficulties, health and nutrition concerns and workplace and career difficulties. The program is confidential and optional and is available 24 hours a day, 7 days a week.